Project Controller
EuroSort
's-Graveland
What is required?
Completed higher vocational education (HEAO), MER or business administration
At least 3 years' work experience in a similar position
Good command of ERP systems (preferably Ridder IQ)
Excellent knowledge of Microsoft Office 365, especially Excel and Power BI
Good communication skills, structured and result oriented
Excellent command of the Dutch and English language
Creative, analytical, integrity, eye for detail
In possession of own transport
What will you get?
€5,000 - €6,000 gross p/m (depending on knowledge and experience)
32 to 40-hour working week
30 vacation days
Opportunity to attend training and education programs and courses
Work from home opportunities, bonus scheme
Daily fresh fruit, Friday afternoon drinks, monthly company lunch
What will you do?
30% Internal consultation and advising
20% Performing analyses
20% Checking project administration
20% Creating reports
10% Optimizing processes
This vacancy has been created based on interviews with employees to help you get a realistic preview of the job.
Vacancy
Acquisition based on this advertisement is not appreciated. We usually fill the vacancies ourselves and in exceptional cases we work with preferred suppliers.
As a Project Controller at EuroSort, you are responsible for the accurate and well-organised administration of a number of projects. You are the financial point of contact for the various project teams and ensure reliable, complete and timely processing of financial transactions. On the basis of this, you make periodic and ad hoc reports for the MT and other line managers. In doing so, you contribute to improving the financial predictability of projects.
You regularly join project meetings and advise the Project Managers on the basis of current data and insights. You go through the figures and the planning, keeping an eye on whether the financial data match the ambitions and plans made. You also support and advise on setting budgets. Through your work, you contribute actively to improving and optimising the various processes and systems.
You are part of the Finance team, which consists of three Administrative Assistants, an Office Manager HR and Finance. You report to the Finance Manager. This is a new position within the team, giving you a lot of freedom to shape your work as you see fit.
If you enjoy keeping an overview of different projects in a rapidly changing organisation, and find it challenging to sometimes have to call colleagues back when decisions are made too quickly, then this is a job for you.
Working week
Project Controller

On an enjoyable working day, you complete a big project, in which you were able to help by implementing a new tool. With this, you and your team were able to contribute to helping the organisation move forward.
On a less enjoyable day, you get a lot of unexpected questions and work, which means you don't get around to the tasks that were actually on your schedule.
08:00

09:00

10:00

11:00

12:00

13:00

14:00

15:00

16:00

17:00

18:00
Employees within a project have made a decision they should not have made without consulting team Finance. What do you do?
Often decisions are made which should have been discussed first. As this can have consequences for the entire process, as a Project Controller you intervene immediately. You immediately consult the Project Manager of the project in question to indicate which procedures should be followed. If the Project Manager does not agree and you cannot work it out together, you schedule a meeting with a member of the Executive Board. Together, you go through what the processes should look like and, where necessary, you decide on the procedures to follow.
Growth
EuroSort is currently growing strongly, offering career opportunities both horizontally and vertically. EuroSort considers personal development very important. That is why there are many opportunities to continue education and follow training programmes and courses. At the moment, EuroSort is developing a training policy to make this more concrete.
Working at EuroSort
EuroSort B.V. is specialised in the development and assembly of high volume sorting systems for various applications. Think of order processing, returns, counting and sorting by size, colour, type of products, e-commerce and cross docking. The company was founded in 2001 and believes in qualitative simplicity. Therefore, the sorting solutions are always simple, robust and made of high quality materials and components. This combination creates a system that optimises the work process and makes it more efficient, saves valuable floor space and improves and increases productivity.
Founded in 2001

Headquarters in 's-Graveland

Globally active, branches in the Netherlands, Spain and North America

180 employees

Average age 45 years

Hybrid working in office positions

Safety workwear is mandatory in the warehouse and is provided by EuroSort
Colleagues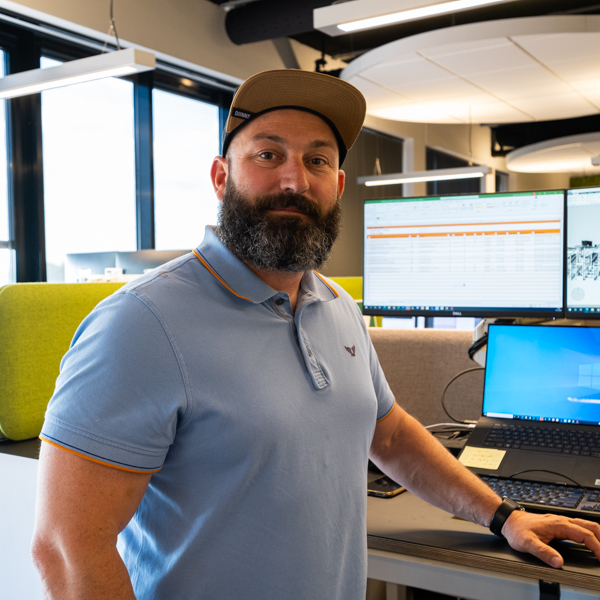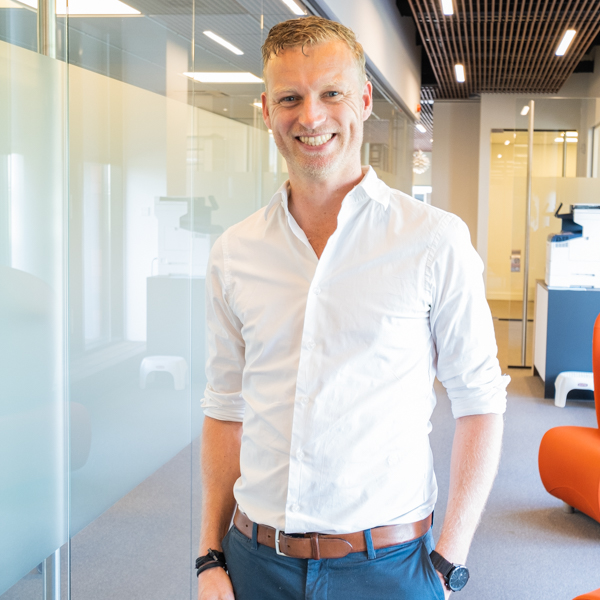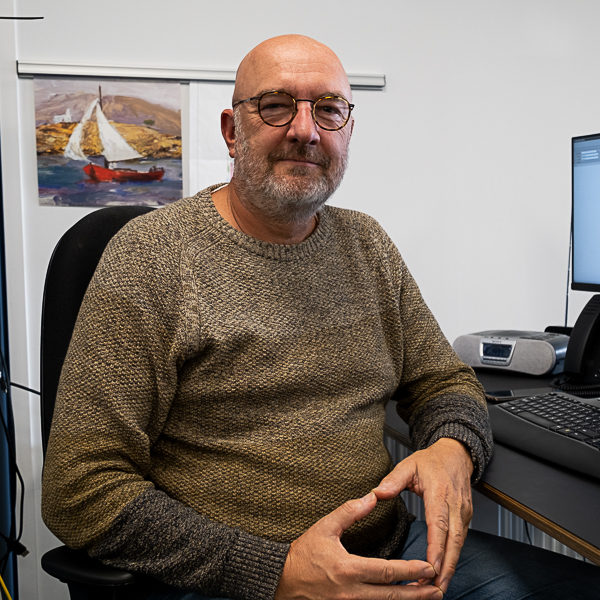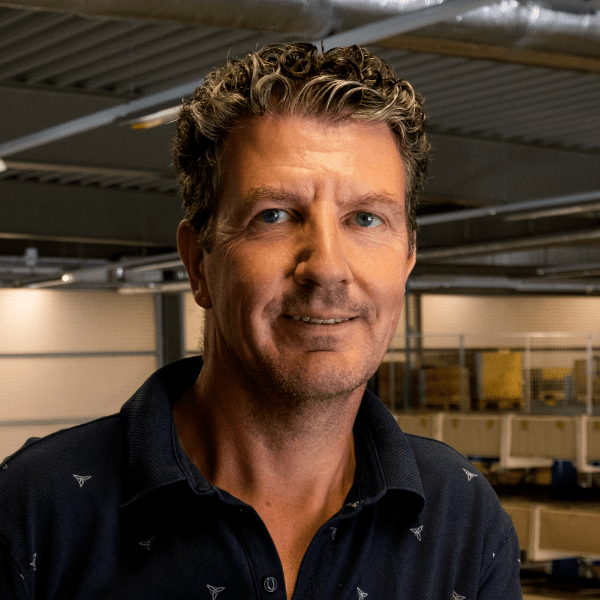 Sjoerd van Schie - Mechanical Installation Coordinator
Why did you decide to work for this company?
I already worked freelance for this company as an installation supervisor and was asked to do the coordination. It is a young dynamic company that is active worldwide: as a mechanic this gave me the opportunity to travel while working. In this way I gained some nice experiences and now I supervise the installations.
What was your previous job?
Freelance mechanic/assembly supervisor, elevator mechanic and animal caretaker.
What do you do in your spare time?
Fishing.
Wiebe de Jong - Manager TECH
Why did you decide to work for this company?
I started as an intern (Engineer) when the company only had a few employees (almost nineteen years ago). The type of company has always given me opportunities to develop and grow in the organization. It has never been boring as the company and product continues to evolve. The company is always open to new ideas.
What did you study?
Mechanical engineering.
What do you do in your spare time?
Hockey, Formula 1, enjoy drinks on a terrace and play sports.
Andre Meulman - PLC Software Engineer, Control department
Why did you decide to work for this company?
With a predilection for technology, I have always been looking for a working environment in which I have to deal with multiple techniques. At EuroSort, various systems come together in the control of the sorting installations. From controlling various sensors, actuators, motors and servo drives, to communication between different systems, such as servers, HMI and cameras.
What was your previous job?
PLC Software Engineer IA.
What do you do in your spare time?
In my spare time I enjoy doing water sports or hiking.
Marco Vonk - Purchaser
Why did you decide to work for this company?
I started in 2011 as an Engineer at EuroSort. In addition, I did project-related purchases. Due to the dynamic growth of EuroSort, I have gradually started to concentrate and professionalize myself more in the field of purchasing. Partly because the organization feels great, from which we get satisfaction together, this is a huge stimulus to develop myself further and to keep the enthusiasm high. This is an advantage of EuroSort for me!