Working at EuroSort
EuroSort B.V. is specialised in the development and assembly of high volume sorting systems for various applications. Think of order processing, returns, counting and sorting by size, colour, type of products, e-commerce and cross docking. The company was founded in 2001 and believes in qualitative simplicity. Therefore, the sorting solutions are always simple, robust and made of high quality materials and components. This combination creates a system that optimises the work process and makes it more efficient, saves valuable floor space and improves and increases productivity.
" EuroSort is an innovative company and always in motion. This is automatically a big plus for me personally! "
Founded in 2001

Headquarters in 's-Graveland

Globally active, branches in the Netherlands, Spain and North America

180 employees

Average age 45 years

Hybrid working in office positions

Safety workwear is mandatory in the warehouse and is provided by EuroSort
Growth possibilities at this company
EuroSort considers personal development very important. There are many opportunities to follow education, training and courses. EuroSort is currently developing a training policy to make this more concrete.
Why work at EuroSort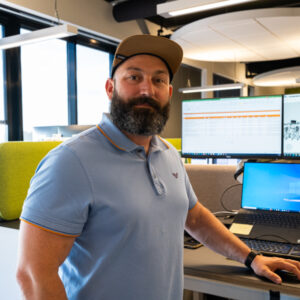 Sjoerd van Schie
Mechanical Installation Coordinator
I already worked freelance for this company as an installation supervisor and was asked to do the coordination. It is a young dynamic company that is active worldwide: as a mechanic this gave me the opportunity to travel while working. In this way I gained some nice experiences and now I supervise the installations.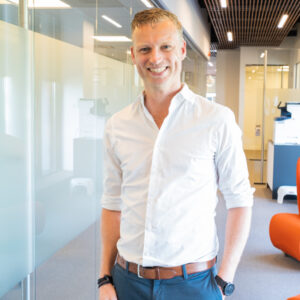 Wiebe de Jong
Manager TECH
I started as an intern (Engineer) when the company only had a few employees (almost nineteen years ago). The type of company has always given me opportunities to develop and grow in the organization. It has never been boring as the company and product continues to evolve. The company is always open to new ideas.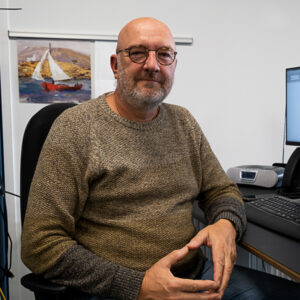 Andre Meulman
PLC Software Engineer, Control department
With a predilection for technology, I have always been looking for a working environment in which I have to deal with multiple techniques. At EuroSort, various systems come together in the control of the sorting installations. From controlling various sensors, actuators, motors and servo drives, to communication between different systems, such as servers, HMI and cameras.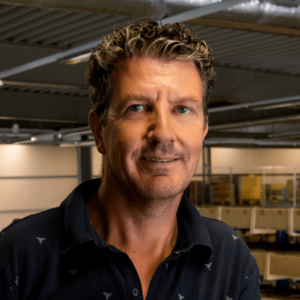 Marco Vonk
Purchaser
I started in 2011 as an Engineer at EuroSort. In addition, I did project-related purchases. Due to the dynamic growth of EuroSort, I have gradually started to concentrate and professionalize myself more in the field of purchasing. Partly because the organization feels great, from which we get satisfaction together, this is a huge stimulus to develop myself further and to keep the enthusiasm high. This is an advantage of EuroSort for me!
Jobs at EuroSort
What is our biggest challenge?
Due to the pandemic, we have entered a huge growth spurt, which has resulted in an explosive increase in work. Our challenge is to get the occupation to the right level. In addition, the challenge also lies in innovating to remain in the top 3 of the best players in the market.
'Getting the occupancy up to the right level.'
EuroSort